MUSC Health
MUSC Health is the clinical enterprise of the Medical University of South Carolina (MUSC), comprised of a 700-bed medical center, the MUSC College of Medicine and the physician's practice plan. It serves patients across South Carolina and beyond through four hospital facilities in Charleston and more than 100 outreach sites. Among these are the Hollings Cancer Center, the only National Cancer Institute-designated center in the state, a nationally recognized children's hospital, the Center for Telehealth and the state's only transplant center. The Medical University was founded in 1824 and has become a premiere academic health sciences center at the forefront of the latest advances in medicine, with world-class physicians, scientists and groundbreaking research and technology that is often the first of its kind in the world. MUSC educates and trains more than 3,000 students and residents, and has nearly 13,000 employees, including approximately 1,500 faculty members in six colleges (Dental Medicine, Graduate Studies, Health Professions, Medicine, Nursing and Pharmacy). 
Roper St. Francis HEALTHCARE
Roper St. Francis Healthcare is Charleston's only private, not-for-profit hospital system with a specific focus on community outreach, maintaining a mission of healing all people with compassion, faith and excellence. The healthcare system has three hospitals strategically located across the region: Roper Hospital on the Charleston peninsula, Bon Secours St. Francis Hospital in West Ashley and Roper St. Francis Mount Pleasant Hospital in Mount Pleasant. The system is building a fourth flagship hospital in the Carnes Crossroads section of Berkeley County. Roper St. Francis Healthcare is one of the Lowcountry's largest private employers with more than 5,500 employees. The healthcare system has a robust, active medical staff of more than 900 doctors representing every medical specialty and provides services in more than 125 locations in seven counties.
Trident United Way
The mission of Trident United Way is to be a catalyst for measurable community transformation in education, financial stability and health. Trident United Way brings organizations and people together to improve educational outcomes for all students, improve the opportunity for all people to enjoy a quality standard of living and improve the health of all individuals. Trident United Way unites expertise, resources and passion by fulfilling its roles and responsibilities in our community as a community connector, a strategic partner, a volunteer engager and an investor. When you invest your time, talent and treasure with Trident United Way, you join a movement of people and organizations working together to create bold change. We know that working together is the most efficient way to solve complex community-level issues.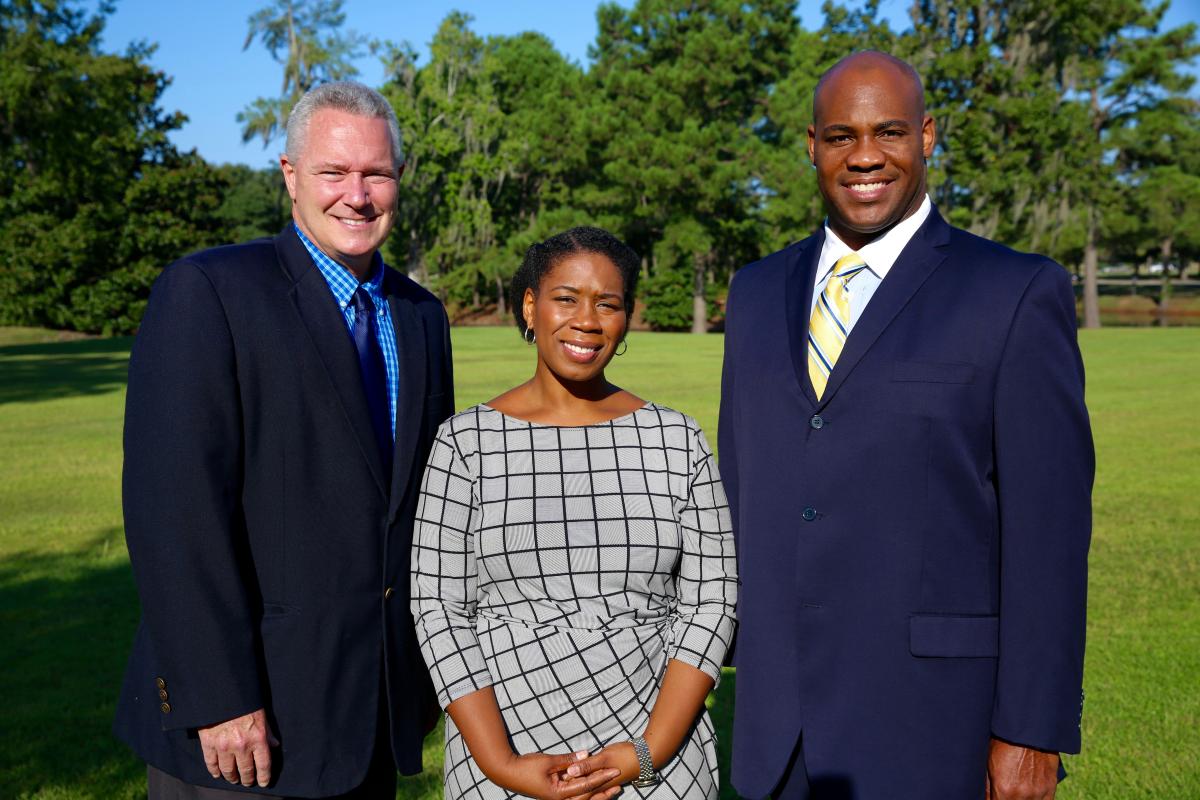 Original HTC Core Partner representatives pictured left to right: Mark C. Dickson, Roper St. Francis Healthcare; Kellye A. McKenzie, Trident United Way; Anton J. Gunn, MUSC Health