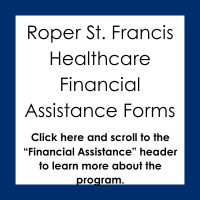 Other Health-Related Online Hubs 
View additional, recommended health hubs below by clicking on the title of the online resource (alpha order)!
​​​Charleston Community Guide

This guide offers an overview of what makes our community special and provides helpful resources for making this three-county region your new home.
(843) 767-9300
Charleston County Parks & Recreation

The Charleston County Park & Recreation Commission operates over 11,000 acres of property, including regional parks, beach parks, a historic plantation site, landmark fishing piers, waterparks, boat landings, a climbing wall, a challenge course, an interpretive center, an equestrian center, cottages, a campground, a marina, and event facilities. We also offer a variety of recreational services – festivals, camps, classes, programs, and more.​
(843) 795-4386
Charleston Physicians

​a "destination" website designed to educate the Charleston-area community on healthcare topics and connect those in need with qualified local healthcare professionals.
Choose Well

​Across the state, [Choose Well's] diverse network of partners — from hospitals and rural clinics to university health centers and nursing schools — are working together with a singular goal: give South Carolina families the healthiest start.
(803) 929-0088
​​​Dorchester County Parks & Recreation

​The Parks and Recreation Department strives to provide sustainable recreational, cultural, and leisure opportunities that complement the diverse and progressive nature of our community and enhance the quality of life for residents and visitors.
(843) 832-0193 or (843) 563-0193
​Hands on Health-SC gives the people of South Carolina a place to go to learn about health and wellness. Areas include diabetes, heart disease, cancer, asthma, stroke, and suicide. If you or someone you care for is facing one of these problems, Hands on Health-SC can help you find out about it.
​Insure SC is a one-stop shop to enroll and get information about health coverage options including Medicaid, Medicare, Marketplace, and private insurance. All services are free. 
(843) 577-4122
​Let's Go SC is your resource to everything healthy and active in South Carolina. Locate places like farmers' markets, playgrounds, trails and parks near you. Find places to exercise and buy fresh fruits and vegetables in your hometown. Look for local healthy events happening in your community.
(803) 667-9810
​NAMI provides advocacy, education, support and public awareness so that all individuals and families affected by mental illness can build better lives.
(toll free) (800) 950-6264
Nurse-Family Partnerships works by having specially trained nurses regularly visit young, first-time moms-to-be, starting early in the pregnancy, and continuing through the child's second birthday.
The Ralph H. Johnson VA Medical Center provides comprehensive health care through primary care, tertiary care, and long-term care in areas of medicine, surgery, psychiatry, physical medicine and rehabilitation, neurology, women's health and dentistry. Specialty services include Cardiothoracic Surgery, Neurosurgery, Orthopedics, Mental Health program PTSD, Substance Use Disorders, Military Sexual Trauma, Cardiology, Oncology, Nephrology, Pulmonary and Geriatrics.

(888) 878-6884
​To improve the quality of life for all South Carolinians by protecting and promoting the health of the public and the environment.
(803) 898-3432
​[SC DHHS's mission is] to purchase the most health for our citizens in need at the least possible cost to the taxpayer. Medicaid is South Carolina's grant-in-aid program by which the federal and state governments share the cost of providing medical care for [those in need] who have low income.
(888) 549-0820
​Search for trails and walking paths across the Tri-County region and statewide.
(803) 734-0130
​connects people with important community services to meet everyday needs and the immediate needs of people in crisis. It is a resource for finding assistance in your local community and can offer information on: affordable high quality child care and after-school care, counseling and support groups, health services, food, clothing, and housing, services for seniors and the disabled. 2-1-1 is available statewide.
Dial 2-1-1 or toll free (866) 892-9211
The Navigation Center is Charleston's home for a coalition of service providers working together to connect people in crisis with employment, housing, transportation, education, health and wellness care, spiritual support, and mentoring. 
(855) 355-1200
​WellCare provides Medicaid, Medicare Advantage and Prescription Drug plans that focus on humans, not just healthcare.
(866) 775-2192 (Dial 3)
Have suggested edits or general feedback? Please email htcsupport@tuw.org and we will follow up with you!
Neither Healthy Tri-County, nor its members or representatives, endorse or in any way guarantee the products, services, or care provided by any resources listed or linked to, and shall not be held liable for any action taken by, in coordination with, or on behalf of those resources.
last updated: 5/10/20