Move IT! Charleston County Parks and Recreation's mission is to turn the Charleston region into a national model for community health and wellness using our diverse network of parks and partners to improve quality of life.
Since 2013, Move IT! Charleston County has facilitated all of Charleston County Park and Recreation Commission's (CCPRC) fitness and wellness programs. Races and Runs dominated CCPRC's fitness/ wellness schedule prior to Move IT!'s inception. Since then, we have grown the offerings to include year round group fitness programs, a more robust race and event schedule including the Off Road Duathlon, Save the Light Half Marathon and 5k, like Starlight Yoga series. Combined, these races, events and programs have served thousands of constituents over the past 5 years. Our goal is to provide enough depth in our programming to provide a continuum of care for our constituents whether they are managing chronic conditions or they are a seasoned athlete.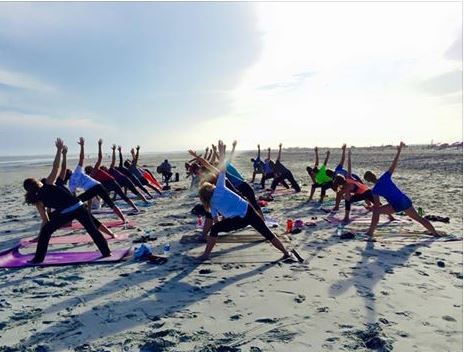 Move IT! Charleston County offers a diverse fitness/wellness schedule year round both indoors and outdoors in our scenic park settings. At any given time, our constituents may choose to participate in any number of group fitness programs, races, and wellness events including chronic condition management, yoga, aquatic fitness, and races and runs.
The most exciting aspect of Move IT! Charleston County is the resources we have available to us to reach the community on a large scale. Our parks and facilities are located in all corners of Charleston County, giving us the unique opportunity to serve thousands of area residents from McClellanville to Hollywood in our day parks including James Island County Park, in the rural areas from Schroder Community Center in Hollywood, and St. James Santee in MClelanville, and our undeveloped parks including Laurel Hill in Mt Pleasant and Old Towne Creek County Park West of the Ashley.
The schedule represents our continuum of care approach to fitness and wellness programming by encouraging individuals to take control of their own health regardless of age, ability or residence. For the full list of our program and event schedule check out our webpage at https://www.ccprc.com/1710/Move-IT-Fitness-Wellness.
Upcoming events include our Mullet Haul Race on April 28th at Johns Island County Park and the Charleston Sprint Triathlon Series at James Island County Park May through August. We are also hosting Starlight Yoga at Folly Beach County Park on June 7th and our Stand Up Paddle Board/Yoga program returns for the summer beginning April 28th. Our popular summer aquatic fitness programs, H2O Moves and H2O Moves with Tot in June at Wannamaker County Park, James Island County Park and Palmetto Islands County Parks.
Starlight Yoga https://www.ccprc.com/2079/Starlight-Yoga
Mullet Haul https://www.ccprc.com/1391/Mullet-Haul-Trail-Run'
Charleston Sprint Triathlon Series https://www.ccprc.com/1507/Charleston-Sprint-Triathlon
Stand Up Paddle Board Fitness https://www.ccprc.com/2025/Stand-Up-Paddleboard-Fitness
H2O Moves https://www.ccprc.com/1809/Programs-Activities
Move IT! Charleston County is proud to be a part of the Obesity/Nutrition/Physical Activity subcommittee with HTC. As a member of this organization we are helping to locate and inform the public on accessible and affordable programs areas for exercise. We believe that with all the highly motivated players on our team we will be able to ensure that all area residents are able to improve their health and wellness through easy, affordable and accessible means.